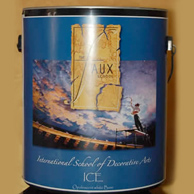 Ice Pearlescent
Ice is a revolutionary decorative coating that is easy to use and requires no burnishing. It can be applied with trowels, rollers, brushes and sponges.
Ice is a smooth, creamy peanut butter like constancy. You can apply single color, multiple color combinations, layered or stenciled designs. Perfect for any room in the home or business and is water and moisture resistant, so you may use it in the bathroom or kitchen.
Available in silver and gold base. Ice comes in tint base or we can tint it to your favorite Sherwin Williams paint color.
Easy to use
No special tints
We can tint it to any manufacturers paint or plaster color
No special primers, applies directly over flat paint
No burnishing required
| | | |
| --- | --- | --- |
| Quart | $29.95 | |
| Gallon | $79.95 | |